Benchtop Analysis Systems
U710x is Ultran's next generation, turnkey inspection system for 2D C-Scan generation, optimized for use in non-contact (air-coupled), immersion, and direct/delayed contact modes.  The U710x is faster and has higher sensitivity than any other non-contact quality inspection system in the industry. Its lightweight design facilitates its use in a wide variety of applications, including those involving fieldwork.
U710x System
Product Attribute Overview
The U710x is powered with 390V tone burst excitation, 84 dB of dynamic gain, and numerous filter options for signal enhancement.  U710x is available with numerous X-Y scanning options for small sample analysis or large part inspection.

Research Studio Post-Processing Software Suite
Ultran's post-processing software includes statistical analysis upon a full scanned image or a selected sample, color palette adjustment, A-scan capture for every scanned point, histogram generation, and more.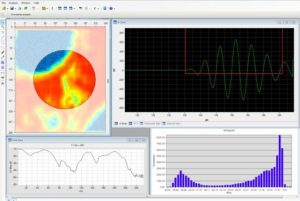 Size and Imaging Frame Options
The U710x system is available in several sizes and configurations, as shown below.  Contact us at info@ultrangroup.com for pricing information.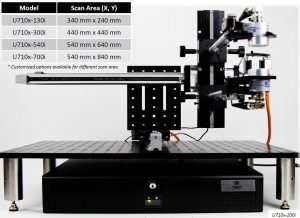 Documents
U710x Specifications and Product Overview
Select Applications