Production Quality Control
Ultran offers inspection systems to support production operations:  Continuous web-line and piece-part production as well as large structures.  Applications range from raw material to final product on their existing production lines and realizing significant cost avoidance by detecting defects early in the manufacturing process without impacting the production throughput.  These versions of the U710x ultrasonic analysis system are customizable to handle complex shapes and various sizes.  Please reach out to us at info@ultrangroup.com for further information.
Large Component Inspection
Combined with advanced robotics systems, the U710x is utilized to inspect complex shaped and large structures.  This solution is ideal for replacement of cumbersome and expensive water squirting systems to perform quality analysis upon composite structures for air and space crafts.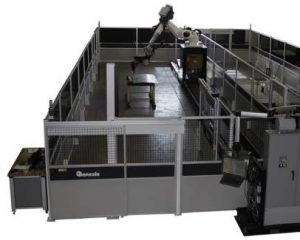 Continuous Webline Inspection with Multichannel Non-Contact Ultrasound Arrays
Ultran's non-contact ultrasound technology is uniquely well-suited for continuously moving production lines, either webline or piece-part manufacturing.  Combined with multi-channel phased arrays, our customizable systems can be used for up to 100% coverage of a manufacturing line.